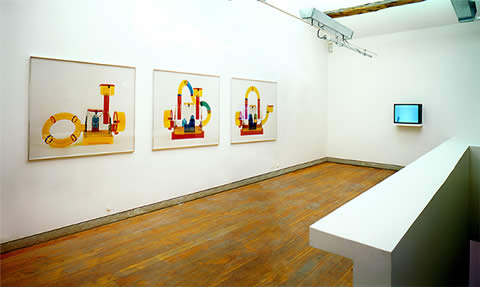 OASEN
Espace Intime, 2002
Installation: Centre d'art contemporain, Pougues-les-Eaux 2002
Oasen, 2002, C-Prints auf Aluminium, Kassettenrahmen, Acrylgläser, je 113 x 149 cm
Espace Intime, 2002, Videoloop, 40 Min.
Diesen Hamsterbehausungen gegenübergestellt ist ein Video mit dem Titel Espace Intime. Das ungeschnittene Filmmaterial zeigt einen Hamster, der versucht, 40 Minuten lang aus seinem Käfig auszubrechen. Die Kameraeinstellung wurde so gewählt, dass die Käfiggrenzen unsichtbar bleiben. Der Rahmen des Monitors ist gleichzeitig die Grenze des Käfigs.
Contrasted with these hamster dwellings is a video with the title Espace Intime. The uncut film material shows a hamster trying for 40 minutes to break out of its cage. The camera setting was selected in such a way that the cage limits remain invisible. The monitor frame itself is also the boundary of the cage.